Company Profile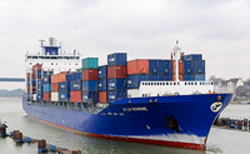 West Coast Marine is one of the leading exporter since 1995 for supply of Reusable Marine Machinery and Spare Parts Obtained from World's; one of the largest ship breaking yard situated in the west coast of India called as "ALANG SHIP BREAKING YARD" with a motive to reduce the cost of ship owners and protect the environment from further pollution. West Coast Marine is the preferred supplier of the industry whom you can trust for personalized attention. we at West Coast Marine, go the extra mile to ensure that the best satisfication level to be achieved by our valued customer.
The skilled technical team at West Coast Marine is expert in overhauling and maintenance of marine engines. The engines and spares are added to our inventory only after full inspection. Our stock-list is updated on a regular basis as we make regular shipments across the globe. The West Coast Marine service maintenance department is augmented by our large inventory of marine spare parts.
West Coast Marine has a large client network across the world including India, U.S.A., Europe, Middle East, & Latin America. We are having satisfied clentbase from ship management companies, ship owners, ship repaires, ship suppliers & traders.